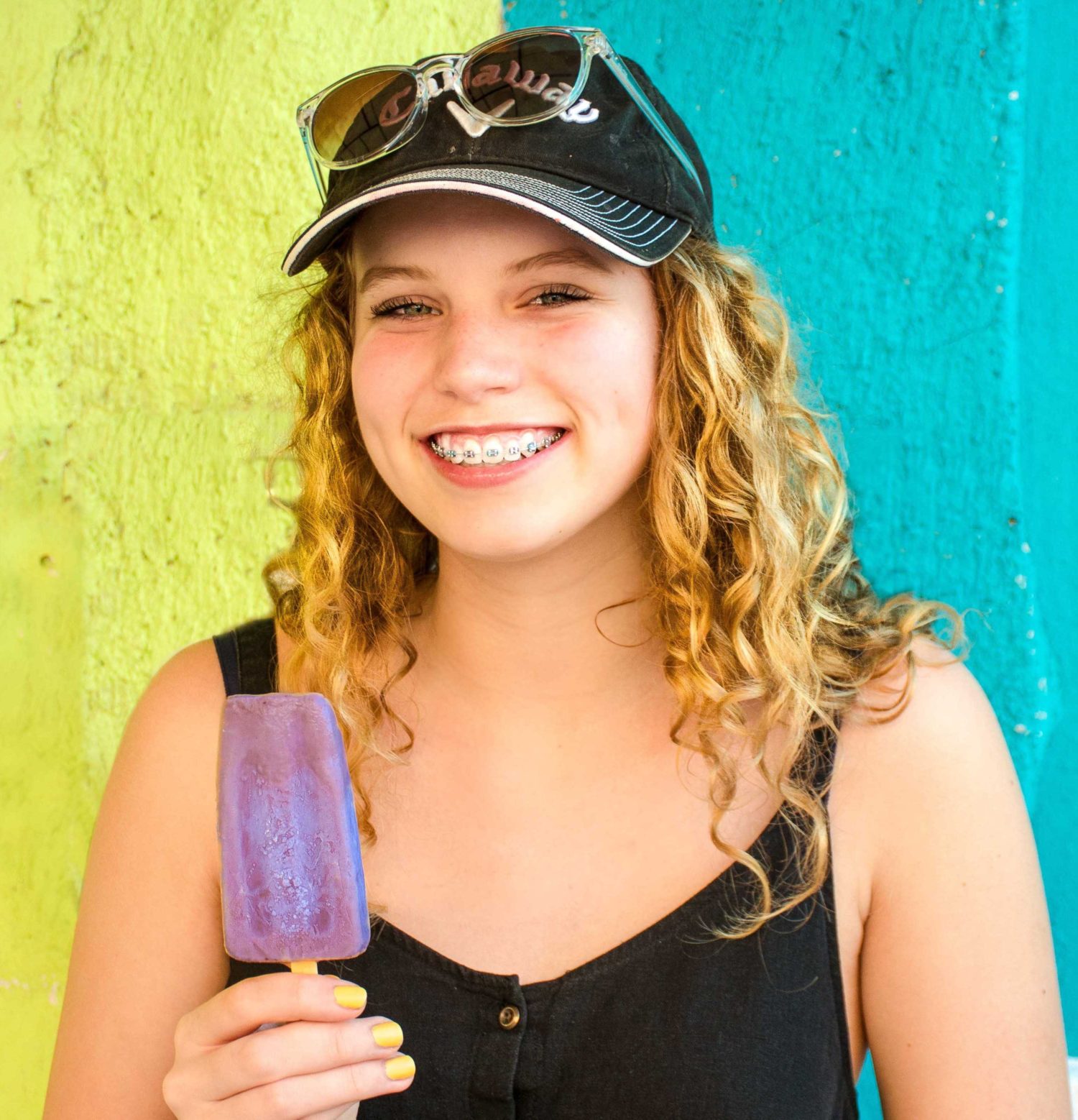 Keen to know how to look after your braces?
What supplies will I need?
Make sure you have an adequate supply of dental wax, special cleaning aids, elastic bands, or other related materials you may need for your braces between appointments.
We'll provide you with and show you how to use dental wax to apply over the braces as necessary. This wax/silicone creates a smooth surface and alleviates irritation on the inner cheeks and lips.
Additionally, over-the-counter pain medication works best and may be taken as directed in combination with a regiment of salt water rinses to relieve any soreness.
What should I be eating?
Until you get used to eating with your new braces it may be best to start on a diet of softer foods. The easiest foods to eat with braces are things like yogurt, scrambled eggs, smoothies, puddings, seedless bread, boiled vegetables, pasta, or thin soups.
After five days to a week, any initial discomfort associated with the braces should be gone or much improved. The teeth will have gradually acclimated to the braces, and eating should become much easier.
What foods should I avoid?
When you're wearing braces, you need to be more aware of what you eat. Eating too many sugary and starchy foods can cause plaque to build up around the brackets, which can cause staining of the teeth, causing cavities or leading to gum disease.
Very few foods are actually off-limits when you wear braces, but as a heads up – anything chewy, sticky, crunchy or hard will be on to no-go list!
You should especially avoid sticky and chewy foods, such as dried fruits, caramel, taffy, corn on the cob and chewing gum, all of which can become stuck and be hard to remove from braces.
Hard foods are another no-no. Foods such as nuts, ice, popcorn and beef jerky can break the wires of the braces and loosen the brackets. Even otherwise healthy foods, such as raw apples and carrots, can be problematic because their hard texture can damage the wires. To eat crunchy foods, cut them into small, bite-size pieces.
Plus, if you're the sort of person who's always nibbling on your nails or chewing pen lids, you'll need to curb that habit pretty quickly too! These types of habits and foods can break or bend the braces which is never a good thing.
If you're wearing braces, you'll want to do everything in your power to make sure you're going to get the best result. Keeping your teeth clean, taking the time to floss, and thinking about the food you eat are simple but effective steps to make sure you'll have a perfect smile when the braces come off!
Caring for your braces
Brushing is super important whether or not you wear braces, but it becomes especially important when you're undergoing orthodontic treatment. When you wear braces, it's much easier for pesky pieces of food and plaque to get trapped in the brackets and cause problems, so you should use a toothbrush with a soft head to access those hard-to-reach areas. If you prefer to use an electric toothbrush, that's fine too.
It's very important to brush your teeth after each meal (snacks count, too), to rinse with mouthwash, and to floss at least once a day. This may seem tedious or excessive, but the last thing you want is serious oral health problems which could force you in to spending additional time in braces, or cause unsightly staining on your teeth.
The extra responsibility needed to care for braces properly will be something that will pay off when your braces come off when you have a beautiful new smile!
Braces do much more than improving your smile!
They also play an active role in correcting overcrowded and misaligned teeth. This is important because an abnormal bite (also known as "malocclusion") may cause other problems, such as impaired plaque removal around misaligned teeth, which can lead to gum inflammation and cavities.
Taking good care of braces can help prevent damage to the braces themselves and the teeth underneath as well as make the braces more comfortable to wear. Learning the basics of orthodontic care will help you follow your dental professional's recommendations to keep your teeth and gums healthy during the time you're wearing braces.
The run down: brushing with braces
It's really important your careful cleaning your teeth, because plaque bacteria are easily trapped inside and around them. The following procedure will make daily brushing and flossing both simple and effective.
Prepare to brush: take off elastics and any other removable parts.
Clean your braces: hold your brush at a 45-degree angle to clean around the wires and pins of your braces. Brush from the top of each wire down to the bottom. Take your time to ensure that all plaque and food is removed, and that you work all the way around your upper and lower teeth.
Brush your teeth: Clean each tooth individually. First, place your brush at a 45-degree angle the gum line, then apply gentle pressure as you move in a circular motion. Do this for about 10 seconds. Use the same brushing action on all outer and inner tooth surfaces, tilting the brush as needed to better reach the insides of smaller front teeth. Make sure you brush your teeth for a totally of 2 minutes each time you brush.
Floss at least once a day: Randal will show you the best way to floss, or just follow the instructions on the product package. You may also want to use a flossing product designed specifically for braces, like a floss threader.
Rinse and check your teeth. rinse thoroughly with water or even better with a mouth rinse, and don't forget to examine your teeth and braces in the mirror.
Professional care: visit your dentist for regular check-ups once a year. This will help to ensure your teeth remain clean and healthy throughout your treatment.
The run down: flossing with braces
Although flossing with braces can be a litte tricky at first, you'll soon get the hang of it with practice if you follow these steps:
Floss at least once a day: use waxed floss (unwaxed floss is more likely to get caught and shred in your braces), dental tape or a product specifically designed to clean around your braces. Oral-B Superfloss®, which is self-threading or regular floss with a floss threader to place above and below the orthodontic wire.
Use enough: about 18 inches of floss should suffice.
Thread it carefully: Take the floss and carefully thread it under the main wire of the braces before passing it between two teeth. Then remove the floss and re-thread it under the main wire to pass between the next pair of teeth. Be sure not to snap the floss- simply move it up and down gently against the side of each tooth
Other braces tips and tricks
Prepare a kit with a toothbrush, toothpaste, and floss (to use between meals), wax, and lip balm (for dry lips). Carry this with you at all times.
If you have hooks, wear your elastics/rubber bands all of the time (except for when you're brushing your teeth). This may hurt sometimes, but it will stop the hooks from digging into or getting caught on your cheeks, as well as make sure that your treatment moves as quickly as possible.
If one of your wires or brackets breaks, don't panic. Don't try to bend the wire or pull it out, which could make things worse. Just cover any sharp edges with wax or wet cotton, and call Randal to make an appointment to see him as soon as possible.
Even if you're self-conscious about your braces, don't be afraid to smile – people actually notice your mouth more when it's clear that you're trying to hide something. Plus, braces are very common, so there's no reason to be self-conscious – wear them with pride!
If you are caught without a toothbrush, vigorously rinse your mouth with water (or mouthwash) and brush as soon as you are able to.
Nothing lights up a room more than a child's smile! So, if you want to make sure your child has the confidence to smile, find out the right time to have an orthodontic consultation.
Your smile is something you show off each day and something you should be really proud of! Orthodontic treatment is for everyone so if you'd like to smile with more confidence find out how here.
Randal is a member of the following: