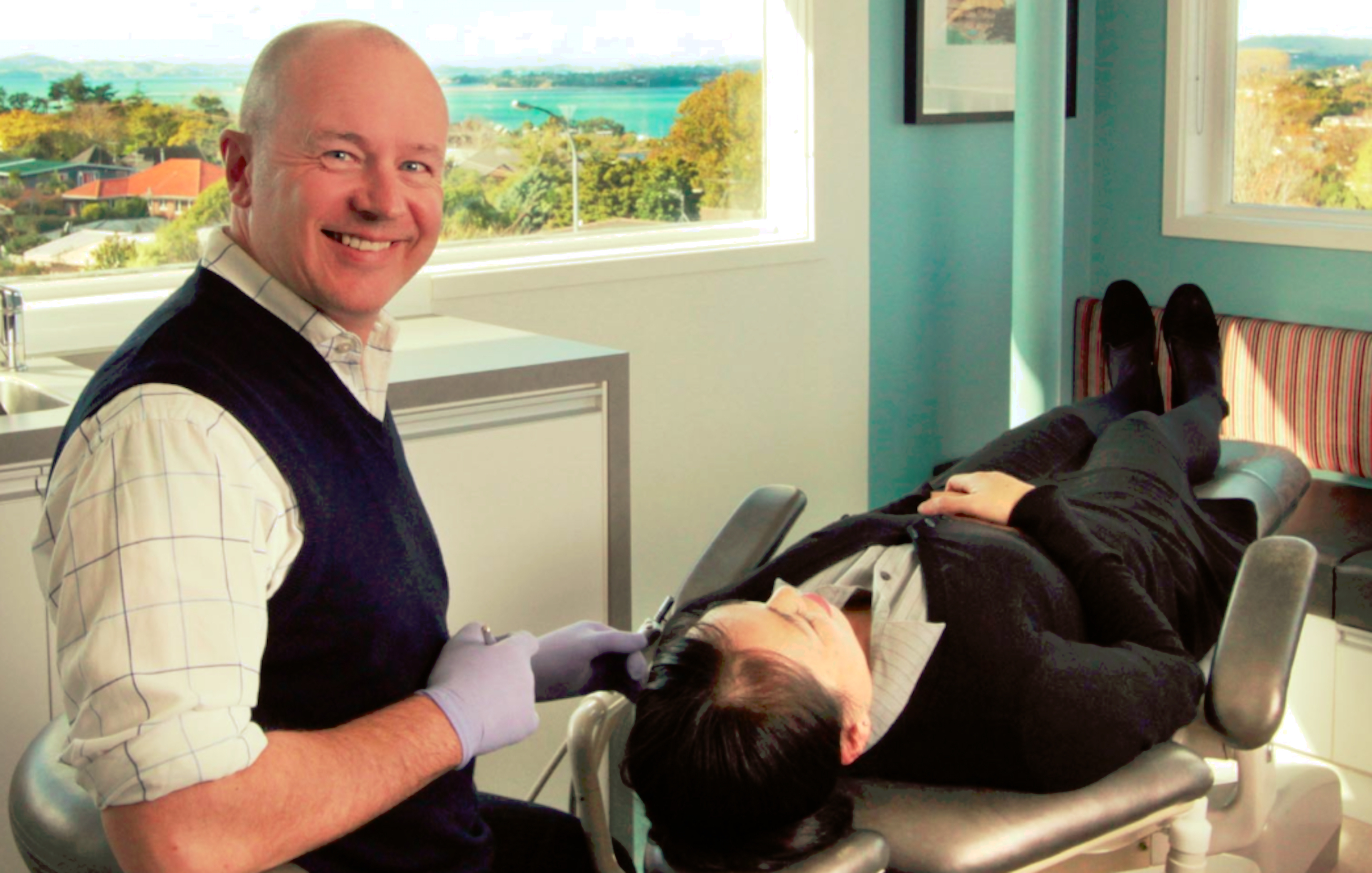 Want your dream smile without anyone knowing?
What is Clear Aligners?
The Clear Aligner system is a virtually invisible treatment that uses an innovative approach to gently yet effectively straighten you or your child's teeth.
Through a series of custom-made removable aligners made with unique digital technology, the Clear Aligner system gradually and predictably moves teeth into the desired position.
How does Clear Aligner treatment work?
Initially, Randal will take photos, X-rays, and a digital scan to help create your treatment plan.
These records, along with the treatment prescribed by Randal will be used to create a customised 3D treatment plan just for you. With the treatment plan, you'll be able to see the final position your teeth are predicted to reach after treatment. This treatment plan is used to develop your customised aligners and also estimate the likely length of your treatment.
The customised aligners will be manufactured and shipped to Randal's office for him to give to you during your treatment.
Your series of custom-made aligners will be given to you by Randal (typically 3-4 sets at a time) for you to wear every-day and change them at home approximately every 2 weeks
You'll be coming back to visit Randal approximately every 8 weeks to monitor the progress of your treatment and receive the next 
series of aligners. 

After you've finished your

Clear Aligner

treatment, you will need to use retainers to help make sure the new position of your teeth is maintained. 

What's life with Clear Aligners like?
Take a look and see what it's like having Clear Aligner treatment and how it fits into your life:
With Clear Aligner treatment, it's easy to make your smile picture-perfect for that special occasion.
Since Clear Aligners are barely noticeable, you can be yourself and don't have to hide your smile while going through treatment.
If you lead an active lifestyle then Clear Aligner treatment lets you continue wearing your aligners without having to worry about sharp brackets cutting your mouth.
Oral hygiene is a lot easier to upkeep because Clear Aligners are removable, letting you brush and floss your teeth regularly.
Craving a snack? No problem. Since Clear Aligners are removable, you have the freedom to eat, chew and drink whatever you like. You can keep eating all your favourite foods!
Clear Aligner treatment appointments work so easily with your schedule. Most visits are in and out within 15 minutes, with a quick progress check once approximately every 8 weeks.
Why would I choose Clear Aligners?
Clear Aligners are removable, so it is easier to clean your teeth and maintain your oral health during treatment and also keep eating all the foods you enjoy!
Clear Aligners are virtually invisible, so it's unlikely anyone's going to actually notice that you're having treatment!
Clear Aligner treatment may give you visible results from as early as the first month of treatment. Even better, most people won't know you're going through treatment when you're wearing Clear Aligners because they are virtually invisible!
Got a special occasion coming up? No problem! Just take your aligners out for the event and pop them back in when you're done.
With Clear Aligners, you don't have to worry about doing the sports you want to do. Clear Aligner treatment is a suitable treatment option for an active lifestyle.
If you're deciding whether to straighten your teeth but you're worried about the discomfort then worry not! With innovative digital technologies, the Clear Aligner system straightens your teeth predictably and more comfortably.
Clear Aligner treatment is ideal for your busy schedule, with doctor visits only approximately every 8 weeks. That means you can spend more time doing other things that you love!
How long does treatment with Clear Aligners usually take?
Depending on the severity of the problem, growth during treatment and how well you follow instructions, treatment times can vary greatly. The average treatment time for an adolescent is around 24 months and Adult treatments generally take a little longer and average between 24 and 30 months. Clear Aligner treatment times are generally shorter for both adolescent and adults.
Keen but have more questions?
Take a look at the nitty gritty questions you may have about Clear Aligners by checking out our FAQs here. If you've got a question that's not answered there, just get in touch!
Is Clear Aligners suitable for me?
Many think that Clear Aligners only work for minor teeth straightening issues, but the Clear Aligner system can also be used to treat a range of moderate to severe teeth straightening issues such as the below. Take a look at the smile below that looks most like yours or your child's teeth:
What is an underbite?
An underbite is when you close your mouth and your lower front teeth are in front of your upper teeth. In many cases, this is actually a problem with your lower jaw being too far forward.
What kinds of problems can an underbite cause?
An underbite can make it hard to chew properly and speak clearly, and it might cause your teeth to wear down more quickly. 1, 2
Can Clear Aligners fix an underbite?
Yes, Clear Aligners can fix some underbites. Severe underbites might require Invisalign treatment combined with surgery.
What is an overbite?
An overbite is when your upper front teeth overlap with your lower front teeth. Many people may have a little overbite.
What kinds of problems can an overbite cause?
When your overbite is too large, your doctor might say you have a "deep bite." This can cause problems, from your teeth wearing down, to pain in your jaw. 1,2
Can Clear Aligners fix an overbite?
Yes, Clear Aligners can fix an overbite or deep bite.
What is a cross bite?
A cross bite is when you close your mouth and some of your upper teeth are sitting inside your lower teeth — rather than on the outside, like they normally would.
What kinds of problems can an crossbite cause?
A crossbite can make your teeth wear down or chip. It can also make your gums start to recede or make little notches above your gum line. 1 This kind of damage can lead to painful gum problems or even bone loss. 2
Can Invisalign clear aligners fix an crossbite?
Yes, Invisalign clear aligners can fix some types of crossbite.
What is gapped teeth?
Gapped teeth or spacing issues is when you have extra space between two or more of your teeth.
What kinds of problems can gapped teeth cause?
Gapped teeth can create pockets betweeen your teeth and gums where food can get stuck. It can make your gums tender and sore and even lead to gum disease.
Can Invisalign clear aligners fix an gapped teeth?
Yes, Invisalign clear aligners can fix gaps in teeth.
What is overcrowding?
Overcrowding is when you don't have enough room in your jaw for your teeth to fit normally, your teeth can bunch up, overlap and twist, sometimes getting pushed to the front or the back.
What kinds of problems can overcrowding cause?
Overcrowding can make it hard to brush and floss well. Then it's easier for plaque, tartar, and harmful bacterial to build up — and down the line, this can lead to tooth decay and gum disease. 1, 2 Your crowded teeth can also get worse over time.
Can Invisalign clear aligners fix overcrowding?
Yes, Invisalign clear aligners can fix overcrowding.
What is an open bite?
An open bit is when your upper and lower teeth don't touch when your mouth is closed.
What kinds of problems can an open bite cause?
An open bite can make it hard to chew or difficult to bite into some common foods, like apples. 1 - 3
Can Invisalign clear aligners fix an open bite?
Yes, Invisalign clear aligners can fix an open bite.
Is seems like a little thing why should you fix it?
You might like your smile — but you might want to really want to love it. Maybe you have a special event coming up, or you want the confidence to take on the world at work or at school, work on play! Small fixes can make a big difference.
Braces are what most people think of when they think of orthodontic treatment and are one of our most common forms of treatment. Braces consist of small metal or ceramic brackets which are fitted to the front of your teeth with adhesive and have a wire running between them held in place by elastics.
Surgery is a less common form of orthodontic treatment, however it can be used in combination with other treatments to help treat more severe cases. Also known as Orthognathic surgery, adults with improper bites or other aesthetic concerns can undergo surgery by a specialist Oral Maxillofacial surgeon.
Nothing lights up a room more than a child's smile! So, if you want to make sure your child has the confidence to smile, find out the right time to have an orthodontic consultation.
Your smile is something you show off each day and something you should be really proud of! Orthodontic treatment is for everyone so if you'd like to smile with more confidence find out how here.
Randal is a member of the following:
References: 1. Van't Spijker, A, et al. "Occlusal Wear and Occlusal Condition in a Convenience Sample of Young Adults." Journal of Dentistry, vol. 43, no. 1, Jan. 2015, pp. 72–77., doi:https://doi.org/10.1016/j.jdent.2014.11.001 2. Riolo, Michael L., et al. "Associations between Occlusal Characteristics and Signs and Symptoms of TMJ Dysfunction in Children and Young Adults." American Journal of Orthodontics and Dentofacial Orthopedics, vol. 92, no. 6, 1987, pp. 467–477., doi:10.1016/0889-5406(87)90228-9 3. Current Therapy in Orthodontics, Nanda & Kapila, 2010